Being certified as a Microsoft Office Specialist demonstrates you have the skills needed to get the most out of Office.
Microsoft Office has evolved from its simple origin into the world's most dominant productivity suite. It comes with everything that may come into use in the office setting. Users have the option for several different Microsoft Office suites intended for corporations, small businesses, students and home users.
Perhaps you think you can use Microsoft Office, Word, Access, Excel, PowerPoint but in reality you've just scratched the surface. As it's indicated in job requirements, proficiency in Microsoft Office will add value to your resume.
Hired In Michigan Career Institute - MICROSOFT OFFICE SPECIALIST (MOS) Exam Preparation Courses. If you are interested in learning more about Microsoft Office and as well as earn a certificate of completion for each course completed, we offer all training program students full access to learning. Hired In Michigan Career Institute offers premium quality e-learning. You'll get access to video tutorials, lectures, quizzes and tests from mobile, tablet and desktop from anywhere anytime and can learn at your own pace.
Students can select different programs and learn separately. Word, Excel, Access, PowerPoint each have tutorials organized by topic and students can also download Practice Workbook.
Training Lessons
ACCESS - Learners will gain a fundamental understanding of this database application's environment and basic database principles. They will be able to demonstrate the correct use of key features and the ability to create and maintain tables, relationships, forms, reports, and queries.
EXCEL - Participants will gain a fundamental understanding of the Excel environment and the ability to complete tasks independently. They will know and demonstrate the correct application of the principal features of Excel. Participants will create and edit a workbook with multiple sheets, and use a graphic element to represent data visually. Workbook example include professional looking budgets, financial statements, team performance charts, sales invoices, and data-entry logs.
OUTLOOK - Learners will be able to use Outlook to enhance professional correspondence, create calendars, and schedule appointments. Participants will create and edit professional-looking email messages, maintain calendars across time zones, and schedule tasks for a variety of purposes and situations including sending email for marketing campaigns, planning staff meetings, and assigning action items from those meetings.
POWERPOINT - Participants will learn to create, edit, and enhance slideshow presentations to create professional-looking sales presentations, employee training, instructional materials, and kiosk slideshows. Learners will gain a fundamental understanding of the PowerPoint environment and the correct use of key features of this application.
WORD - Participants will learn to proficiently use the advanced features of Microsoft Word for document content management and advanced formatting - critical skills for those in roles such as editors, project managers, business information workers, and educators. Participants will create and manage professional multi-page documents for a variety of specialized purposes and situations. They will customize their Word environments to meet project needs, and to enhance productivity. Examples of expert-level documents include a business plan, a research paper, a specialized brochure, and a mass mailing.
Take advantage of this great opportunity. Phone Inquiries: (248) 237-3600
Request Information! Schedule A Meeting.
Address Info
HiredInMichigan.com (Sion Recruitment, LLC)
24901 Northwestern Highway,Suite 416., Southfield, Michigan 48075
Office Telephone (248) 237-3600
info@hiredinmichigan.com
MICROSOFT OFFICE SPECIALIST (MOS) Training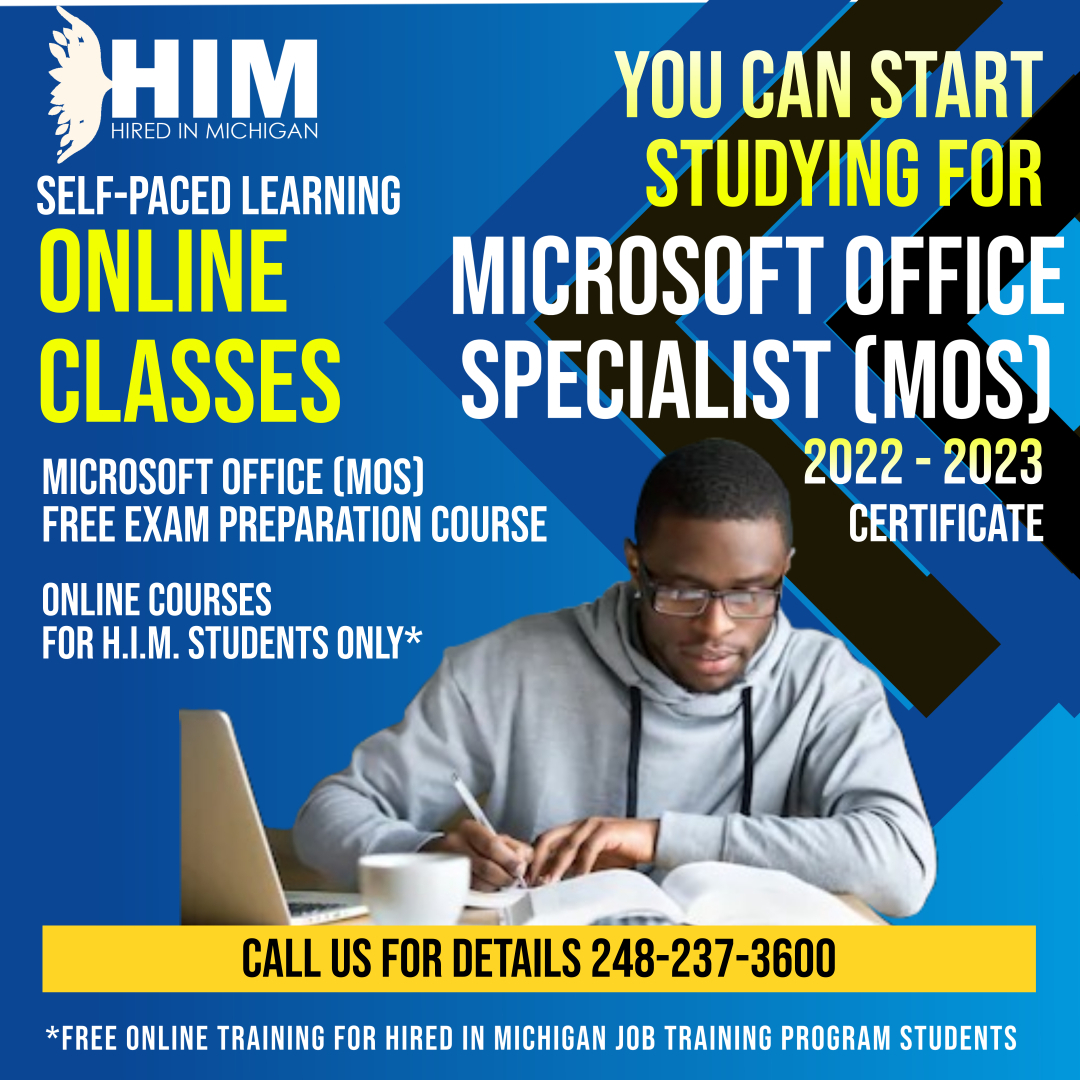 Microsoft Office Specialist Exam Preparation Courses is free for participants enrolled in Hired In Michigan Career Institute career training programs only.*